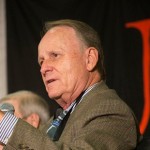 Professor Emeritus and Research Professor, Public Policy and Political Science
glanoue@umbc.edu
CV
Education
Ph.D., Political Science, Yale University
M.A., Political Science, Yale University
A.B., Hanover College
Research Interests

Education policy (K-12 and higher), constitutional law and policy (civil rights and First Amendment), public procurement policy
Recent Publications
Improbable Excellence: the Saga of UMBC (Carolina Academic Press, 2016).

"After Fisher: Academic review and judicial scrutiny." Academic Questions (2013, vol 26, no 4).
"Defining social and economic disadvantage: Are government preferential business certification programs narrowly tailored?" University of Maryland Law Journal of Race, Religion, Gender and Class (2012, vol 12, no 2).
Experience and Honors
Director, UMBC Policy Sciences Graduate Program (now Public Policy)
Director, Teacher's College, Columbia University Graduate Program in Politics and Education
Woodrow Wilson National Fellowship
Danforth National Fellowship
Public Administration Fellowship
Swedish-American Bicentennial  Fellowship