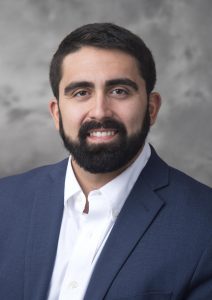 Assistant Professor, Public Policy
Fernando Tormos-Aponte is an Assistant Professor at the University of Maryland Baltimore County, a Visiting Scholar at Johns Hopkins University, and a Kendall Fellow at the Union of Concerned Scientist's Center for Science and Democracy. He earned his MA and PhD in political science from Purdue University, and a BA from the University of Puerto Rico—Río Piedras. Dr. Tormos-Aponte specializes in social movements, identity politics, social policy, and transnational politics. His research focuses on how social movements cope with internal divisions and gain political influence. Tormos-Aponte's work has appeared in the Public Administration Review, Politics, Groups, and Identities, Environmental Policy and Governance, Alternautas, PS: Political Science and Politics and in the edited volumes The Legacy of Second-Wave Feminism in American Politics, Gendered Mobilizations, and Latinas and the Politics of Urban Spaces. He is currently working on studies on social movements in Puerto Rico, transnational social movements, and the Movement for Black Lives. Tormos-Aponte has also written for The New York Times, Washington Post, In These Times, Nueva Sociedad, Jacobin, St. Louis American, and the Entitle Blog.
Education
Purdue University
Ph.D. Political Science, 2017
Dissertation: Mobilizing Difference: The Power of Inclusion in Transnational Social Movements
Graduate Certificate in Social Policy
Graduate Certificate in Environmental Policy
M.A. Political Science, 2013
Universidad de Puerto Rico
B.A. Political Science (Summa Cum Laude), 2010
Publications 
Recent Refereed Publications
Forthcoming. "Intersectional Synthesis: A Case Study of the Colectiva Feminista en Construcción." In Latinas and the Politics of Urban Spaces, eds. Sharron Navarro and Lilliana Saldaña.
2019. "Active Solidarity: Intersectional Solidarity in Action." In Social Politics. With Rachel L. Einwohner, Kaitlin Kelly-Thompson, Valeria Sinclair-Chapman, S. Laurel Weldon, Jared M. Wright, and Charles Wu.
2019. "Strengthening the Pathway for Graduate Studies in Political Science" In PS: Political Science and Politics. With Mayra Vélez Serrano
2019. "Enacting Intersectional Solidarity in the Puerto Rican Student Movement." In Gendered Mobilizations, eds. Jill Irvine, Sabine Lang, Celeste Montoya.
2019. "Green New Deal Policies Should Be Fueled by Frontline and Grassroots Power." Public Administration Review. With Angela Adrar, Olivia Burlingame, Anthony Rogers-White
2018. "The Politics of Survival in Puerto Rico: The Balance of Forces in the Wake of Hurricane María" Alternautas 5 (2).
2018. "Polycentric struggles: The experience of the global climate justice movement" with Gustavo García-López. Environmental Policy and Governance 28 (4).
2018. "Black Women Lawmakers and Second-Wave Feminism: An Intersectional Analysis on Generational Cohorts Within Southern State Legislatures from 1990 to 2014" with Nadia Brown, Guillermo Caballero, Sharonda Woodford, and Allison Wong. 2018. In The Legacy of Second-Wave Feminism in American Politics, eds. Angie Maxwell and Todd Shields. Pp. 179-204. London: Palgrave Macmillan.
2017. "Intersectional Solidarity." 2017. Politics, Groups, and Identities 5 (4): 707-720.
Other Recent Publications
2020. "The Spectacle of Presidential Primaries in Puerto Rico." Latino Rebels. Published originally in the American Political Science Association's Political Science Now.
2019. "Unrest in Puerto Rico is not just about the governor. Here are four things to know." The Washington Post
2019. "Puerto Rico exige democracia." Nueva Sociedad
2019. "Many Puerto Ricans are outraged about how its resigning governor installed his successor. Here's why." The Washington Post
2019. "Ricky is Gone." Jacobin
2019. "How an Investigative Journalism Center Helped Oust Puerto Rican Gov. Rosselló." In These Times
2019. "Puerto Rico Rises." Jacobin
2018. "Razones para celebrar después de las elecciones intermedias en Estados Unidos." The New York Times
2018. "The Politics of Survival." Jacobin
2017. "Puerto Rico at the Precipice." Jacobin. With José C. Martínez.
2016. "The Politics of Climate Justice at COP21." Entitle Blog
Scholarships and Awards
Johns Hopkins University Visiting Scholarship 2019
Cambridge University Visiting Scholarship Summer 2019
American Political Science Association Fund for Latino Scholarship July 2018
National Science Foundation AGEP Distinguished Scholar, Purdue University May 2017
Outstanding Graduate Student, Purdue Latino Cultural Center May 2013, May 2017
Devin Roberson Memorial Award, Purdue Political Science May 2017
National Science Foundation AGEP Scholar of the Year, Purdue University April 2016
Purdue University Berenice Carroll Award, Honorable Mention April 2016
Purdue University Graduate School Certificate of Excellence in Research Spring 2014