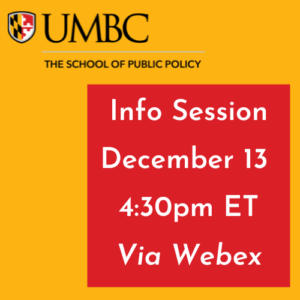 Register for our next info session
Our students have an impressive track record of professional and academic achievements. Applicants to the M.P.P. should have, or be nearing completion of a bachelor's degree. For the Ph.D. program, many successful applicants have a master's degree or the equivalent, but applications to the Ph.D. program without a master's degree are welcome.
The School admits both full and part-time students. Classes are held once a week, at either 4:30 pm or 7:10 pm, allowing students who work full time to enroll in the program.
GRE test results are not required. Admission decisions are based on the match between the program and applicant's interests, academic record, and recommendations from professors (preferred) or others who can speak to the potential for success in graduate school.
Formal Admission to the M.P.P. or Ph.D. Program
To apply online go to the Graduate School website (prospective students to create an account, submit your application information and pay the application fee by credit card over a secure Internet connection. If you are a Peace Corps volunteer, McNair Scholar, Meyerhoff Scholar, Horizon Participant, UMBC employee, or Accelerated Pathways Program participant, contact the Graduate School staff for the appropriate application waiver code. The application will prompt you to provide the names and emails of at least 3 faculty recommenders, a statement of goals, and a list of colleges attended, majors and GPAs, and the TOEFL Scores (for international applicants)*. GRE scores are OPTIONAL. You will also need to submit official transcripts from each university attended. A current resume is also required by the program, and may be linked to the application. Research papers may also be submitted through this application link. http://gradschool.umbc.edu/admissions/apply.
*For English Proficiency test requirements(TOEFL, IELTS, and PTE) please visit Graduate School International Admissions as these requirements are subject to change.
Domestic Application Deadlines:
M.P.P. –
for Spring 2023, complete application by November 1;
for Fall 2023, complete application by April 1
Ph.D. – January 15 (Fall admission only)
International Application Deadlines: Same as above
Non-Degree Seeking: July 15 (Fall), December 15 (Spring)
Applying for Graduate Assistantships
All full-time applicants to our graduate programs are also considered for a Research Assistantship with faculty when they apply to the program, there is not a separate process. Graduate assistants work 20 hours per week with a faculty member on campus conducting research or providing teaching assistance. Full-time Graduate assistantships typically include a stipend, 10 hours of tuition remission and University health benefits. Please note these positions are highly competitive and acceptance to the program does not guarantee funding. To view UMBC graduate funding opportunities, please visit the UMBC FA and Scholarships page here: https://umbc.edu/admissions/graduate/funding/ Public Policy also has a list of funding opportunities specific to our programs available once you are enrolled:  https://publicpolicy.umbc.edu/financial-aid/
All students seeking aid should submit a
FASFA
application. 
The deadline for consideration for Graduate Assistantships is January 15. Newly admitted and current students can also apply.
Transferring Credits
Previous graduate coursework, if it is relevant and taken within the past five years, may lead the Faculty adviser to recommend a reduction in the course credit hours required for the Ph.D or M.P.P. The maximum reduction is 18 credits for Ph.D. and 6 credits for M.P.P. A previously taken course may make a required course redundant. In this case, the student may ask to be exempt from the requirement. Exemptions do not reduce the total number of credits necessary, but they do give the student more flexibility in taking advanced courses and electives. Students will consult with their Faculty adviser to determine eligible transfer credit and exemptions. For more details, see page 4 of the Student Handbook.
Application Fee
At this time, the Graduate School does not allow discretionary app fee waivers. You are eligible for a fee waiver if you fall into one of these categories: current Peace Corps volunteers, Horizons participants, McNair Scholars, Project 1000 applicants, and employees of UMBC. There are also a few exceptions for returning students.  Visit https://umbc.edu/admissions/graduate/admissions-requirements/#other for more information and to request a waiver if you believe you are eligible.
Other Resources
Application Guidelines for Spring 2024 – Fall 2024
Accelerated Pathways (Bachelor's/Master's)
The Accelerated Pathways Program allows UMBC undergraduates with strong academic records to begin taking graduate level courses toward the MPP degree in the junior and senior years.
To learn more and apply, please view instructions here. 
Take a course as a non-degree student before formally applying to the program. Apply through the Graduate School's application page.