Judith A. Shinogle Memorial Fellowship 2021

Zippora Kiptanui
Zippora Kiptanui is a Public Policy Ph.D. candidate specializing in health policy. Through her dissertation, Zippora explores the conflict between the need for innovative medicines and the value assigned to them. She presented her talk "Evidence-base for Novel Drug Approval, Coverage and Cost-Control Strategies" at the Judith Shinogle Award Lecture in November 2021.
Renato DiPentima Fellowship Fall 2021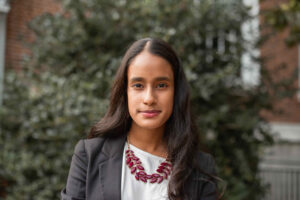 Smitha Mahesh
Smitha Mahesh is a Public Policy Ph.D. student specializing in Health Policy. Smitha is currently working with Dr. Fernando Tormos-Aponte on a collaborative research project. The study evaluates the extent of institutional commitments by scientific organizations to address racial equality and diversity following a surge of Black Lives Matter protests in May 2020. The fellowship provides Smitha the financial means to use a high-capacity computer to process, code, and analyze large sets of data for the project.
Adam Yarmolinsky Fellowship 2021
Doha Chibani
Doha Chibani is a social worker specializing in Health Policy for her dissertation work. The fellowship supports her dissertation research which builds on her clinical background to understand the disparity in
behavioral health insurance coverage and focus on access to care for marginalized populations.
Adebola Daramola
Adebola Daramola's research focuses on financial inclusion policy, digital financial services, and Africa, as part of the Evaluation and Analytical Methods track. The fellowship supports his current work on his comprehensive exam course proposal, which focuses on financial inclusion policy and digital financial services impacts on households in developing countries. The focus is on Nigerian households and low-income populations, like women, and rural dwellers.
Catherine Mata Hidalgo
Catherine Mata Hidalgo's research focuses on the study of education as means to improve the life of low-income populations. The fellowship supports her current efforts to study three different programs that aim to help populations that are most at-risk to drop out from formal education, and therefore, risking being in poverty later in life.
These student fellowships are supported by our generous donors.
You can also support Shinogle Fellowship and the Yarmolinsky Fellowship to help outstanding public policy students pursue their graduate studies.
Learn more on our Giving and Awards page.