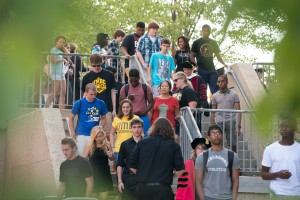 Health disparities, which are gaps in the quality of health and health care due to factors such as differences in race, ethnic background, socioeconomic status, education level and disability status, exist throughout the U.S. population. Health disparities research is a major initiative of the National Institutes of Health, with the goal of using models, statistical analysis and other research tools to understand the causes of persistent differences in health status among disadvantaged populations such as African Americans, Hispanics and American Indians, and to identify interventions to close the gaps.
Researchers in the UMBC School of Public Policy apply an interdisciplinary approach to studying health disparities. Drawing from fields such as sociology, psychology, political science and statistics, UMBC's health policy faculty investigate a range of issues related to health disparities, and recommend policies to encourage healthier behaviors and prevent poor health outcomes. Ph.D. student Cheryl Camillo received a 2015 Fulbright Canada Fellowship to compare approaches to monitoring population health in the U.S. and Canada.
Professor Emeritus David Salkever, along with Brent Gibbons (PhD, 2013), received the "Excellence in Mental Health Policy and Economics Research" for their research on interventions to help people with severe mental disorders.
Nancy Miller has studied the reasons why poor New Orleans residents did not evacuate the city before Hurricane Katrina, the role of health system factors such as health insurance in reducing disparities among working-age individuals with disabilities, and the effectiveness of policies intended to provide support to children and youth with Autism Spectrum Disorder. Public Policy faculty and students have also conducted disparity-related research on wellness initiatives, childhood obesity, and gambling addiction.
Health policy is the largest track for both the Ph.D. and the M.P.P. degree programs in the School of Public Policy. The health policy education and research activities at UMBC focus on finding solutions to the critical problems facing our health care system. Students take courses such as health care finance and service delivery, the politics of health, and health economics. The School partners with agencies such as the Centers for Medicare and Medicaid Services, Social Security Administration, and the Maryland Department of Health and Mental Hygiene to train students to understand the development, present operation, and future of our health care system. The study of health disparities is a key component of the School's coursework and research agenda.
Dr. Miller is the health policy track advisors. To learn more about study concentrations in our Public Policy Program, click here.