By making a gift directly to the School of Public Policy, you strengthen our academic program and ensure that students have the resources they need to make the most of their studies here.
Your gift can support activities in general – designate Public Policy for your gift.
Donors can also support Shinogle Fellowship and the Alumni Graduate Fellowship to help outstanding public policy students pursue their graduate studies.
---
Judith A. Shinogle Memorial Fellowship
Kiki Malomo-Paris is the 2020 recipient of the Judith A. Shinogle Memorial Fellowship.
Past recipients of the Shinogle Fellowship include:
Erin Dorrien (2019)
Jennifer Walsh (2018)
Jennifer Smith (2017)
Cheryl Camillo (2016)
Michael T. Abrams (2015)
Alison Mitchell (2014)
Stephen S. Johnston (2013)
Watch the lecture videos here.
Donate to this fund – indicate Shinogle Memorial Fellowship for your contribution.
---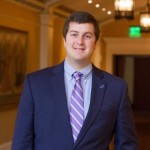 Alumni Graduate Fellowship
The Public Policy Alumni Graduate Fellowship is supported by contributions from Public Policy alumni.
The 2016 Public Policy Alumni Fellow is Gregory Fitzgerald. A part-time MPP student in the education policy track, Greg is the Chief of Staff and Title IX Coordinator at Notre Dame of Maryland University. Prior to coming to Notre Dame, he worked for the Maryland Higher Education Commission and the Maryland General Assembly.
Greg is a Maryland native and graduate of University of Maryland, College Park, where he received a BA in Political Science and Government. When deciding where to pursue the MPP degree, Greg said: "the School of Public Policy's outstanding reputation and faculty made it an easy decision." He chose education policy because: "a quality education can be the single most important influence on an individual's future. Providing supportive policies can really make all the difference. The MPP will allow me to continue to advance in the field and make a meaningful difference on behalf of students."
Here are the past recipients of the Alumni Graduate Fellowship:
Renee Whitby (2015)
Molly Coplan (2014)
Mark Bennett (2013)
Gretchen Shaub (2012)
Carlos Castaneda Veliz (2010)
Donate to this fund – indicate Public Policy Alumni Graduate Fellowship for your contribution.
---
Adam Yarmolinsky Travel Fellowship
We are also grateful to all who have contributed to our fundraising campaign in support of the Adam Yarmolinsky Travel Fellowships. 
The Adam Yarmolinsky fellowships are for travel grants to our current graduate students to enable them to go to professional conferences.