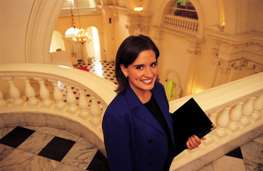 Public Policy supports M.P.P. and Ph.D. students in their career exploration and job search. Through our contacts with public policy employers in the region, and our extensive network of UMBC Public Policy alumni, we strive to direct each of our students to a successful and rewarding career.
Employment
Career opportunities for Public Policy graduates provide exciting work environments, good pay and benefits. We stay in close contact with employers seeking to fill career positions in government, nonprofit, business, consulting and research organizations.
Alumni Profiles
Meet alumni working in various fields, and see how they have put their graduate degree in Public Policy to good use.
Internships
Students can explore careers, apply coursework to the workplace, and build a resume through one or more internships. Internships often lead to an offer of full-time employment. We work with students to identify internship opportunities that meet their professional and personal interests. M.P.P. students without relevant work experience are required to complete an internship prior to graduation. The School has an in-house internship coordinator who works closely with the UMBC Career Center and our alumni to make those connections.
Career Services
The UMBC Career Center offers a range of resources for graduate students, including an online job search database, career fairs, resumes writing workshops, career advising, and personal development workshops.
Networking Workshops


The Career Center and the  Public Policy Graduate Student Organization sponsor alumni networking events throughout the academic year, allowing students to meet program graduates working in their field of interest.   The School can connect you directly to alumni working in the field for information interviews about their organizations.
Professional Development
Our students have opportunities to conduct research and present academic papers at conferences such as the American Public Health Association (APHA), AcademyHealth Annual Research Meeting, Association for Public Policy and Management (APPAM), and the Southern Economics Association. Students can also present their research at the UMBC Graduate Research Conference sponsored each year by the Graduate Student Association.  Travel grants are available for our students for professional conference attendance through the Adam Yarmolinsky travel research grants..
Teaching
Participation in the PROF-it "Professors-in-Training" program provides UMBC graduate students and postdoctoral students who are interested in teaching college the opportunity to receive training and teach a class at one of the campuses of Baltimore County Community College. Public Policy PhD students have also taught UMBC undergraduate classes in economics, history, political science and sociology.
Promise Program
The PROMISE Program at UMBC supports the academic and professional development of graduate students from all backgrounds and in all fields. PROMISE events are sponsored by the UMBC Graduate School and the National Science Foundation and include the Dissertation House workshops, PROF-it Professors in Training, and Success Seminars.