A graduate degree in public policy is an investment in the future. Policymakers tackle the essential issues in our society, from poverty to health care, and from housing to transportation. Our public policy program provides you with the tools necessary to develop and analyze public policies and influence the public policy process.
Our beautiful suburban location between Washington, DC and Baltimore provides an ideal setting for public policy education, internships and employment.
We enroll an average of 130 master's and Ph.D. students each year. Whether you are coming directly from an undergraduate or Master's program, or are a mid-career professional, you will find in the Public Policy Graduate Program a community that supports your personal and professional goals.
Are you ready for the next step in your education and professional development? Earn your Master's or Ph.D. degree in Public Policy at UMBC.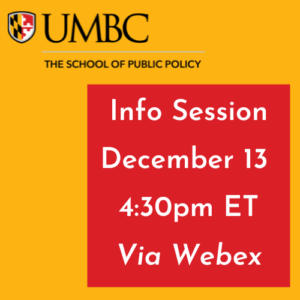 Register for our next info session
Quick Links:
Public Policy Course List – Fall 2022
Public Policy Course List – Spring 2023
Curriculum Orientation Overview
ECPA – Master of Economic Policy Analysis
Financing your graduate education
Funding Opportunities for Graduate Students
Information for:
Returning Peace Corps Volunteers