"Picture this, you are in the first day of class in the new semester. Your professor is reviewing the syllabus and eventually arrives at the details of the final project. She informs you that there is a choice of developing a 20-page research paper or a podcast. Easy choice, podcast it is! Never having created one before, it seemed like an exciting and new challenge. This was my experience in the first day of PUBL 612 Law and Public Policy with Dr. Sterett. I chose to explore police accountability as it exists within the judicial system, more specifically the qualified immunity doctrine. I had the unique opportunity of discussing qualified immunity with a panel of individuals that are intimately familiar with this doctrine in a variety of ways. The panel includes a retired assistant chief of police, a civil rights attorney, a district court judge, and two advocates championing police accountability reform."
Kendra Lyons is a second-year Ph.D. student in the Public Policy program.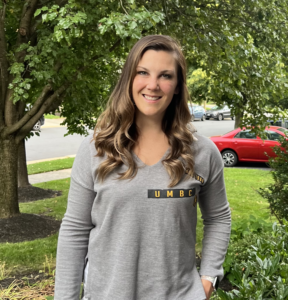 As part of Dr. Susan Sterett's course PUBL 612 Law and Public Policy, Lyons chose to create a podcast for her long-term assignment.