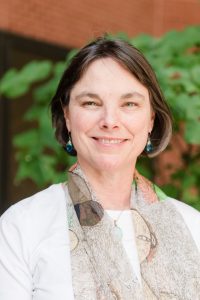 Professor, Public Policy
ssterett@umbc.edu
CV
Education
1987 Ph.D. Jurisprudence and Social Policy Program University of California, Berkeley
1983 M.A. Jurisprudence and Social Policy Program University of California, Berkeley
1980 B.A. Major: Political Science University of California at San Diego
Recent Publications
2019. Research Handbook on Law and Courts  (Edited with Lee D. Walker) (Cheltenham, UK: Edward Elgar)
2018.  "Data Access as Regulation."  American Behavioral Scientist. https://doi.org/10.1177/0002764218797383
2018.  Law's Presence, Law's Absence: reporting on employment in the academy.  Politics and Gender 14(3): 512-551.
2018.  "Symposium: Reflecting on the Profession." Co-editor with Jennifer Diascro. PS: Political Science and Politics. https://doi.org/10.1017/S1049096518001245
2017 "Administrative law and service learning." For a symposium in Administration and
Society. With Nicole Dupuis and Faith Hubbard (graduate students).
http://maint.journals.sagepub.com
2016a "Bureaucratic documents and Home: Assistance after Hurricane Katrina" in Indiana
Journal of Global Legal Studies 23(2): 567-601.
2016b "Introduction" in Symposium, "Legal Mobilization and Juridification: Migration as a
Central Case," Law and Policy 38(4): 273-279.
2015a "Disaster Assistance and Displacement: Care and Surveillance" Studies in Law, Politics
and Society, issue entitled "Cassandra's Curse: Forecasting Future Disasters." Emerald
Publishing Group.
2015b "What is Law and Society? Definitional Disputes." In Patricia Ewick and Austin Sarat,
eds., Wiley Handbook of Law and Society.
2015c "Disaster, Displacement and Casework: Uncertainty and Assistance after Hurricane
Katrina" Law and Policy. http://onlinelibrary.wiley.com/doi/10.1111/lapo.12029/epdf
In Progress
Fleeing Home: law and displacement (Under contract with University of Pennsylvania Press)
"Justice Claims and Climate Change Adaptation." Forthcoming, International Institute for the Sociology of Law online series.
"Displacement, Climate Change Adaptation and Courts" Under review at Risks, Hazards, Crises and Public Policy
Grants & Awards
2019 Workshop Grant, NSF (with Bernard Fraga and Taneisha Means) "Equity in Political Science."
2017 Fulbright Specialist Award, University of Cape Town, August 2017.
2016 Workshop grant, Law and Social Sciences (w/Jennifer Diascro and Judith Grant) (NSF
SES-#1643084) ($40,751)
Research grant,Appealing to the Authority of Data: using information: NSF Smart and
Connected Communities (#1637205) (Adam Eckerd, VT, co-PI) ($199,999)
Support for international travel, NSF Law and Social Sciences (#1721745) $16,576
2016 Oñati International Institute for the Sociology of Law, Workshop grant, Climate Change
and Sociolegal Studies (Anna-Maria Marshall, University of Illinois Urbana-Champaign
and Scott Barclay, Drexel University, co-PIs). (Value approx $20,000) Workshop
held July 2017. Grant from NSF to support travel.
2016 "Workshop: Ethics and Big Data." With Kelly Joyce (Drexel University), co-PI. (NSF
#1623445) ($46,355).
Law and Society Association, in support of editorship ($42,000)
*****
Currently co-editor, Law and Society Review (2016-2019)